There are affiliate links in this post. At no cost to you, I get commissions for purchases made through links in this post.
Are you looking to improve your quality of life through the use of a powerful essential oil?
Specifically, are you looking for a way to bring balance into your chaotic life? Do you feel as if you need protection from potentially-harmful forces?
If so, lava rocks may be the essential oil tool for you.
These powerful minerals have become famed for their wide-reaching benefits that bring people real results.
To find out more about this incredible element and how it can help you, keep reading.
Below, we've put together a comprehensive guide that will tell you everything you need to know about lava rocks and lava rock diffusers.
What is Lava Rock?
Let's start with the basics.
If you're not familiar with lava rocks, we'll give you a hint as to what they are. Ready?
They're exactly what they sound to be. In other words, they actually are cooled rocks created from volcanic eruptions and lava.
But who would have thought that these dried lava stones have such amazing benefits?
It's not just the lava rock itself that can be beneficial, however. They've become an increasingly popular way of diffusing other essential oils.
That's right, these rocks can be included across a wide variety of jewelry diffusers to take your essential oils game to the next level.
For this reason, lava rocks have become very popular in the essential oils market.
If you're looking to increase the power of your essential oils, consider investing in oils and diffusers made with lava rocks.
Even better, these lava stones come at an affordable price that makes them perfect for almost anyone's budget.
This means that you don't have to left out of this powerful essential oils trend.
Benefits of Using a Lava Stone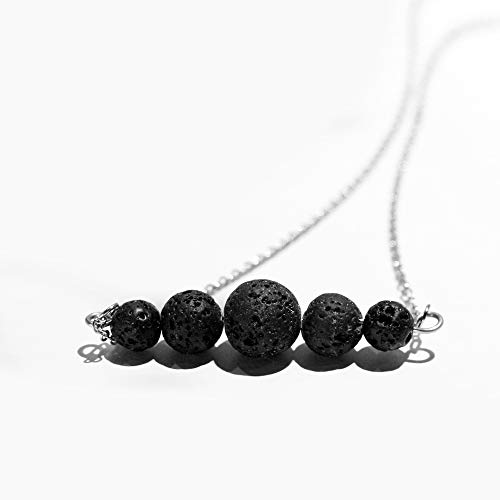 Lava stones come with several powerful benefits that make them perfect for use with essential oils.
First, it's worth noting that because of their porous surfaces, lava stones are perfect for helping to diffuse essential oils.
What's more, they don't require the use of any specific essential oil.
This means that they can be used with the oil of your choosing to enhance its overall effect.
In addition to this, however, are there other benefits to using lava stones?
The answer is yes.
These stones have long been a part of traditional medicine in healing throughout cultures—and are still a great tool to use today.
So what are some benefits of lava stones themselves? Let's take a closer look.
Healing: Did you know that lava stones have long been known for their healing properties?
By investing in lava rock diffusers, you can help supplement the power of your natural oils.
This makes them great for those who are looking for a natural boost to their health.
With the right choice of essential oils and a lava rock diffuser, you'll be on your way to enjoying better health before you know it.
Balance: It's also believed that lava rocks can help restore balance into one's life.
A representation of the Earth, lava rocks work to ground your being. In this way, they're a great choice for those who are looking to get their lives in order.
Make lava rocks a part of your essential oil regime to improve their already-great effects. With regular use, you'll find that your being is coming back to the center.
Protection: Lava stones also have a reputation for protecting those who use them.
Ward off potentially-harmful spirits and keep your mind focused by incorporating lava stones into your daily essential oil routine.
Great Diffusers: As mentioned, the porous nature of lava stones makes them great for diffusing essential oils. This only gets better when you realize that they're compatible with any essential oil that you want to use.
That's right—lava stone diffusers can help enhance the power of the essential oil of your choice.
In this way, you can strengthen any essential oil regime and start enjoying maximum benefits with lava stones.
But how can you add these lava stone beads to your daily routine?
Take a look below as we look at everything you need to know about these powerful natural stones.
How to Use Essential Oils with Lava Beads?
The good news is that using essential oils with lava beads is incredibly easy!
There are no complicated steps to remember or any special precautions you have to take.
By following a simple, straightforward process, you can be on your way to enjoying the amazing benefits of lava beads.
Typically, these lava beads are part of a necklace, bracelet or another form of jewelry. Made of lava rock beads, these pieces of jewelry make great diffusers for various kinds of essential oils.
Let's Take a closer look below.
What Are Lava Rock Diffusers: How to Use Them?
Lava rock diffusers are essential oil diffusers made from lava rock. As noted, they are simple to use and can increase the power of your natural essential oils.
By adding these diffusers into your essential oil schedule, you can start enjoying maximum benefits in no time.
So how should you start using them?
For starters, it's important to keep in mind that there's no one way to use them. You may find that tweaking standard practices here work best for you—and that's okay.
A common way to use lava rock diffusers, however, is to add a few drops onto the beads of your lava rock diffuser necklace and bracelet.
The porous nature of the lava rock bead will help amplify and diffuse the essential oil so that you're getting the best results possible.
Typically, you'll want to reapply the oil when you can no longer smell it. This can be as little as two hours or even closer to a day depending on how much and which oil you use.
By keeping the above information in mind, you can be on your way to enjoying even greater benefits from your essential oils. If you haven't already, it's time to invest in a lava rock diffuser.
In doing so, you'll start enjoying even greater benefits.